The Young Adult Program is being launched by the New York Harbor Sailing Foundation. The goal is to make it easier for college graduates and students to stay involved in the sport of sailing. To achieve this, the Foundation will be providing free sailing opportunities to young sailors (ages 18 to 25) in New York Harbor.
"Each year, many college graduates and students come to the New York region for jobs," observed Michael Fortenbaugh, Executive Director of the Foundation. "While getting their careers started, young adults often have financial constraints, making it hard for them to stay involved in sailing – a sport they love. The Young Adult Program will help to change this and make more sailing available to more people."
The Young Adult Program will offer free sailing opportunities on Foundation sailboats. These include a fleet of Flying Junior dinghies which is part of the Stevens Institute of Technology's collegiate sailing team. These dinghies can race in New York Harbor near the Honorable William Wall. The Foundation also has an International One Design (IOD) yacht. This is a classic 35 ft sloop will make it possible for young adults to practice keelboat sailing. The Foundation's most impressive boats are two America's Cup 12 Meters, US 42 & US 46, which competed in the 1987 Cup Races in Fremantle Australia. Sailing on a 12 Meter is a lifetime experience.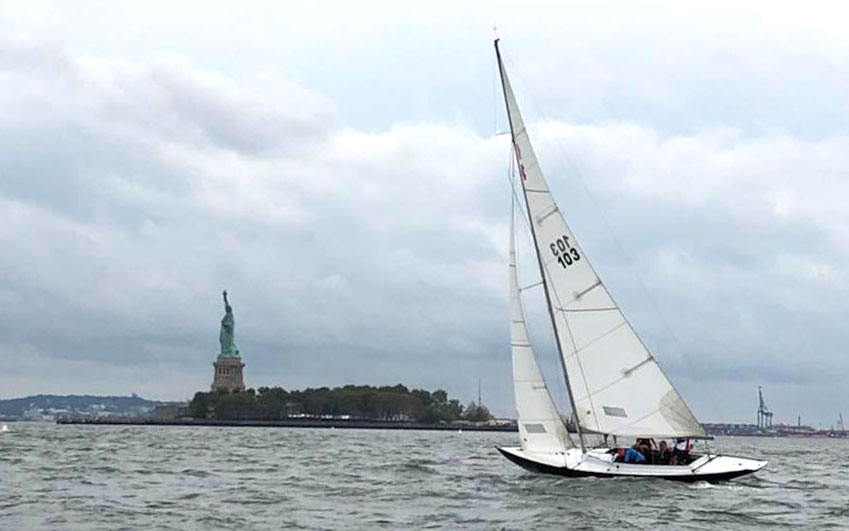 Photo: An IOD sailing in New York Harbor near the Statue of Liberty.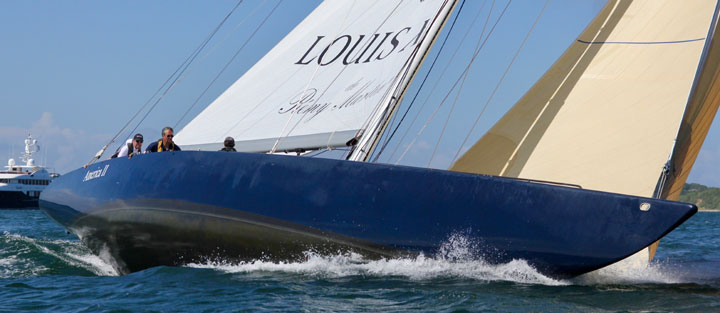 Photo: One of the two 1987 America's Cup 12 Meters operated by the Foundation.
If there is enough interest, the Foundation may also acquire a J/105 race boat. The goal would be to enter a team of young adults in the Around Long Island Race. This race starts from the Manhattan Yacht Club clubhouse near the Statue of Liberty and it would be good to have a team representing NY Harbor.
The Young Adult Program will be open to 20 sailors. Spots will be allocated based on skill and experience in the world of sailing. The Foundation encourages Young adults who have participated in collegiate sailing programs, especially those who have distinguished themselves on the race course or in organizations, to apply.
The Young Adult Program can also lead to professional opportunities such as teaching sailing, managing races and race coaching.
Sailors interested in applying for this program can do so now at:
https://nyharborsailing.com/young-adult-program/application/
The idea for the Young Adult Program in New York Harbor was inspired by Yacht Club de Monaco which established a similar program recently. Their program involve three incredible ocean races, including the Palermo to Monte Carlo Race. Yacht Club de Monaco has extended an invitation for the NY Harbor young adults to join one of the races as part of a cultural exchange. This exchange is beneficial to our Young Adults by broadening their horizons and creating international friends and contacts.
All Foundation programs are currently based at the Manhattan Yacht Club which is the largest sailing organization in New York Harbor. The Club owns a fleet of J/24s which race on Tuesday, Wednesday and Thursday evenings. At other times, these boats are used for cruising in the harbor. Members also own IODs, Sunfish and Laser dinghies. The Club makes it possible for a lot of people to enjoy sailing in New York Harbor. The Club's public teaching arm is Manhattan Sailing School which teaches 700 new adults how to sail every year. The Club was founded in 1987 and is now based at Liberty Harbor Marina in Jersey City, directly across the river from Manhattan's Battery. This marina provides calm water and the best access to good sailing in the Harbor.
In addition to this new Young Adult Program, the Foundation already introduced junior sailing to the harbor in 2003. The largest program is Operation Optimist for kids 8 to 13 years of age which has grown to 40 Optimist dinghies. The Foundation has a Teen Sailing Academy which teaches on J/24s. Last year, the Foundation received the donation of a beautiful 36-ft sloop named "No Moe" which is offering overnight cruising opportunities to teens.
The New York Harbor Sailing Foundation was founded by members of the Manhattan Yacht Club in 1994 to foster and promote amateur sailing of national and international importance in New York Harbor.  The Foundation organizes the Annual Sailors Ball which is its main fundraiser. This year, the Foundation is also relaunching the Lady Liberty Regatta, an all-women event on J/24 sailboats.